Prepaid Plans
Prepaid service for new customers ends September 1st.
As of Sept 1, 2018, we will no longer offer prepaid service to new customers. Existing prepaid customers may continue to use and replenish their accounts until service ends. Prepaid service ends February 28, 2019. Existing prepaid customers will receive a text or call reminder before prepaid services end.
Prepaid customers are encouraged to use up air time before service ends. Any remaining airtime in prepaid accounts on the service end date will be forfeited and no refunds of any balance on prepaid accounts will be granted.
Prepaid customers are able to switch to postpaid CriticalLinc LTE service beginning September 4, 2018 if they meet Linc's established credit criteria. Prepaid customers should contact Customer Solutions to see if they're eligible to switch.
Choose a Prepaid plan that fits your needs
Coverage Maps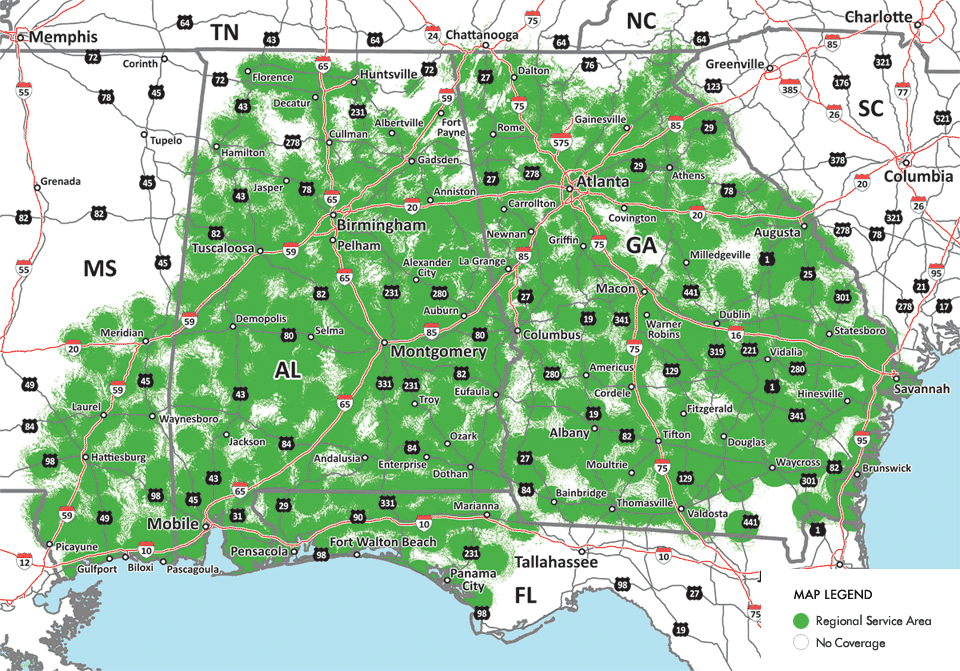 Regional Service Area
Plan
PTT Minutes
Cellular Minutes
Features
Price

Prepaid Unlimited Monthly Plan

now with unlimited
iDEN data
Unlimited*
Unlimited* Anytime Cellular Minutes

Unlimited* iDEN
Data access
Unlimited* Text Messaging
Unlimited* Picture Messaging
Voice Mail
Caller ID
Call Waiting
Access to
Downloads

$50.00/ mo


Details
Prepaid Plans: *Unlimited services only available within the Southern Linc Regional Service Area. Subject to permissible usage allowances; see southernlinc.com/promodetails.
**Nationwide Long Distance applies to calls which are initiated inside the Southern Linc Regional Service Area and terminated in the United States or Canada. Roaming outside of the Southern Linc Regional Service Area is not available.
Prepaid terms of service apply. Starter fee required for Daily Plans. You must pay in advance for prepaid service by purchasing prepaid service in certain designated dollar values or in accordance with daily or monthly plans. Other than calls to 611, 911, #ADD or #BAL, you can only use the prepaid service when your account has a positive balance or has been prepaid in accordance with daily or monthly plans. If you fail to maintain sufficient funds in your account or if your account is inactive for 60 days, then we may suspend your use of the service. Cost for directory assistance, digital content and downloads is not included. Taxes, fees and surcharges not included. For more information on service limitations, see southernlinc.com/promodetails. For prepaid terms and conditions, click here.